Dietary fiber is that part of a plant that is indigestible. Dietary fiber includes cellulose, hemicellulose, pectin, gums, polysaccharides, and lignin. It is not easily digestible by the human body, therefore, it is responsible for both the normal functioning of and for a variety of disorders of the large intestine or colon.1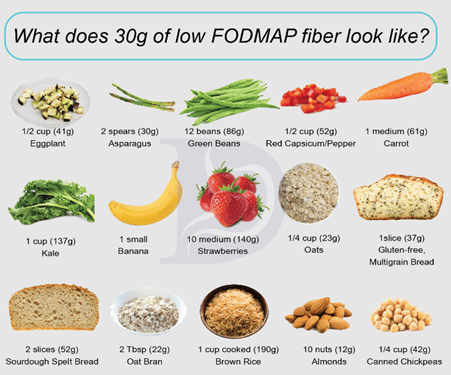 There are certain medical conditions where a low fiber diet is necessary for the proper functioning of the gut. Some of these conditions include:
Acute or subacute diverticulitis
Ulcerative colitis
Crohn's disease
Some types of intestinal surgery
Colostomy
Ileostomy
Certain inflammatory conditions of the bowel
Diarrhea
Bowel narrowing caused by a tumor
IBS
The Aims of a Low-fiber Diet
To lessen abdominal pain, diarrhea, and other symptoms2
To decrease the workload on GIT
To reduce the amount of undigested food moving through the gut
To decrease stool production
A low-fiber diet can be used to reduce weight with proper guidance
Diet Recommendations
People who are on a low-fiber diet can consume the following3:
Tender meat, fish, and poultry, bacon, ham, shellfish, and lunch meat
Eggs, tofu, and creamy peanut butter
White rice and pasta
Dairy products, if tolerated
Baked goods made with refined wheat or rye flour, such as bread, pancakes, waffles, bagels, biscuits, saltines, and graham crackers
Hot and cold cereals that have less than 2.5 grams of dietary fiber in a single serving, such as those made from rice
Canned or well-cooked potatoes, carrots, and green beans
Plain tomato sauce
Vegetable and fruit juices without pulp
Bananas, melons, applesauce, and canned peaches without skins
Butter, margarine, oils, and salad dressings without seeds
Milk products
Orange and grapefruit without membrane
Bread and cereals made from refined pasta, flours, white rice
All oils, margarine, butter
Seafood, cottage cheese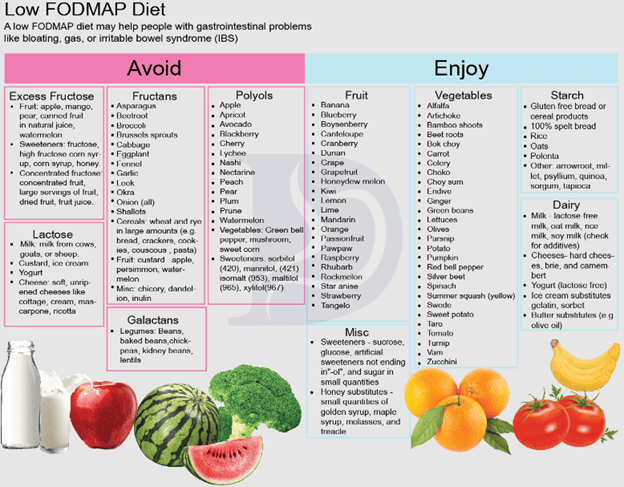 Foods to Avoid
People who are advised to eat a low-fiber diet should not consume the following food items:
Nuts, seeds, dried fruit, coconut
Whole grains, popcorn, wheat germ, bran
Brown rice, wild rice, oatmeal, granola, shredded wheat, quinoa, bulgur, barley
Dried beans, baked beans, lima beans, peas, lentils
Chunky peanut butter
Fruits and vegetables with pulp, raw vegetables
Whole-grain bread, cereals, rice, pasta, bran cereal
Hot dogs, sausage
Nuts, seeds, dried beans
Coconuts, fats used for deep frying
Popcorn, pickles
Be sure to read food labels if you are on a low-fiber diet. Many food products contain fiber even if you think they don't, such as yogurt, ice cream, and cereal. Even some beverages can have added fiber. Choose foods with no more than 1–2 grams of fiber per serving.
Special Consideration
If you are on a low-fiber diet and experiencing discomfort such as abdominal pain, consult your physician ASAP. If you are on a strict low-fiber diet for a long period of time, then consuming fruits and vegetables may be inadequate nutrition, and you may not be getting enough calcium. In this circumstance, your physician may add a multivitamin or liquid nutritional supplement to your diet plan.4
Sample Menu Step 3

Breakfast
Lunch
Dinner

orange juice 1/2 cup
cornflakes 1 cup
poached egg
white toast 1 slice
margarine 1 tsp
jelly 1 Tb
skim milk 1 cup
coffee 3/4 cup
sugar 1 tsp
non-dairy creamer
salt/pepper

fish 3 oz
rice 1/2 cup
cooked green beans 1/2 cup
white bread 1 slice
margarine 1 tsp
jelly 1 Tb
applesauce 1/2 cup
coffee 3/4 cup
sugar 1 tsp
non-dairy creamer
salt/pepper

chicken breast 3 oz
noodle 1/2 cup
cooked carrots 1/2 cup
white bread 1 slice
margarine 1 tsp
jelly 1 Tb
canned peaches 1/2 cup
skim milk 1 cup
coffee 3/4 cup
sugar 1 tsp
non-dairy creamer
salt/pepper
This sample diet provides the following:

Calories

1,576

Fat

45 gm

Protein

89 g

Sodium

2,817 mg

Carbohydrates

215 g

Potassium

3,510 mg
References
Sorathia AZ, Sorathia SJ. Low Residue Diet. StatPearls. Published online April 28, 2022. Accessed July 1, 2022. https://www.ncbi.nlm.nih.gov/books/NBK557693/
Vanhauwaert E, Matthys C, Verdonck L, de Preter V. Low-residue and low-fiber diets in gastrointestinal disease management. Adv Nutr. 2015;6(6):820-827. doi:10.3945/AN.115.009688
Pastorino S, Richards M, Pierce M, Ambrosini GL. A high-fat, high-glycaemic index, low-fibre dietary pattern is prospectively associated with type 2 diabetes in a British birth cohort. Br J Nutr. 2016;115(9):1632. doi:10.1017/S0007114516000672
O'Keefe SJD. The Need to Reassess Dietary Fiber Requirements in Healthy and Critically Ill Patients. Gastroenterol Clin North Am. 2018;47(1):219. doi:10.1016/J.GTC.2017.10.005