The Mediterranean diet consists of food eaten by people in countries bordering the Mediterranean Sea, including Greece, Spain, France, and Italy.1 The Mediterranean diet is considered a heart-friendly diet by many nutritionists and physicians. Historically, people living in the Mediterranean region were very healthy, had much lower heart disease rates, and had high adult life expectancy. The Mediterranean diet came into existence when research studies showed that the answers to their longevity rested in the foods they ate.
Benefits of the Mediterranean Diet
Among others, a few of the benefits of this diet are as follows2:
Healthy for the heart, reduces the risk of heart attack, cardio disease, and high blood pressure
Stabilizes blood sugar levels and prevents type 2 diabetes
Protects the brain, improves brain function, and reduces the risk of Alzheimer's and dementia.
Improves memory function
Preferred Mediterranean Diet
Foods best for daily meal planning3
Vegetables:tomatoes, broccoli, kale, spinach, onions, cauliflower, carrots, Brussels sprouts, cucumbers, potatoes, sweet potatoes, turnips
Fruits: apples, bananas, oranges, pears, strawberries, grapes, dates, figs, melons, peaches
Nuts, seeds, and nut butter: almonds, walnuts, macadamia nuts, hazelnuts, cashews, sunflower seeds, pumpkin seeds, almond butter, peanut butter
Legumes: beans, peas, lentils, pulses, peanuts, chickpeas
Whole grains: oats, brown rice, rye, barley, corn, buckwheat, whole wheat bread, pasta
Fish and seafood: salmon, sardines, trout, tuna, mackerel, shrimp, oysters, clams, crab, mussels
Poultry:chicken, duck, turkey
Olive Oil
Dairy: milk, yogurt
Herbs and Spices: garlic, basil, mint, rosemary, sage, nutmeg, cinnamon, pepper
Healthy fats: avocado, avocado oil
Research proves that a healthy diet should contain only 30% fat, and saturated fat should be no more than 1/3 of that amount.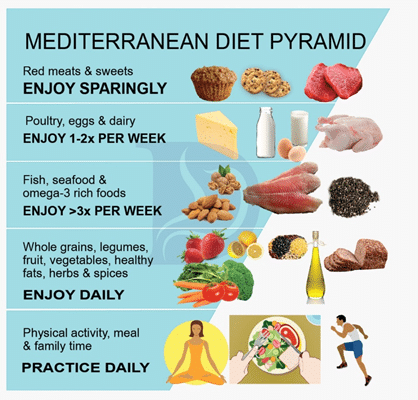 Foods that may be eaten a few times a week
Foods from animal sources are not preferred in the Mediterranean diet. Protein is essential for growth and normal development, but it is taken as lower-fat food choices rather than meat.
Eggs: Mediterranean people eat no more than four eggs per week
Sweets and Desserts: The Mediterranean diet calls for fresh fruits for dessert. Sweets, sugars, and saturated fat are only consumed once a week. Foods like soft drinks, candy, ice cream, and jellies should be limited to extremely rare occasions because of the high sugar content.
Foods restricted to just a few times per month
Red meat should be eaten only a few times a month. The research is clear that excessive red meat in the diet causes heart disease and certain types of cancer. No more than 12 to 16 ounces of red meat should be eaten each month. Broil, roast, or bake the meat instead of deep-frying to cut out extra fat and calories.
Special Considerations
Along with the food recommendations above, exercise is beneficial for health and a crucial part of the Mediterranean diet. Walking and bicycling are two good choices for physical activity that will keep you healthy.
There is one lesser known secret about the Mediterranean diet, and that is the Mediterranean lifestyle. It is common for people from this region of the world to take time to relax at the table, avoid rushing through meals, and share food with friends and family. This reduces stress and makes for a very healthy way of living.4
Sources of Fiber

Insoluble Fiber
Soluble Fiber

Whole grains; including wheat, rye, brown rice, bran, and cereals

Citrus fruits

Cabbage, Brussels sprouts, broccoli, and cauliflower

Strawberries

Root vegetables

Oatmeal

Dried peas and beans

Dried beans and other legumes

Apples

Apples
Sample Menu Step 3

Breakfast
Lunch
Dinner

cereal 3/4 cup
skim milk 1/2 cup
banana 1
margarine 1 tsp
whole wheat toast 1 slice
olive oil 1/2 Tb
sliced almonds 1/2 oz

lentil soup 1 cup
hard roll 1
olive oil 1/2 Tb
spinach 1 cup
romaine lettuce 1 cup
chopped mushrooms 1/4 cup
radishes 2
balsamic vinegar 1/2 oz

pasta 1 1/2 cup
tomato 1/2 cup
broccoli 1/2 cup
squash/zucchini 1/2 cup
sweet peppers 1/4 cup
chopped mushrooms 1/4 cup
olive oil 2 Tb
Parmesan cheese 1 Tb
white beans 1/2 cup
red wine vinegar 1/2 oz
garlic 1 clove
whole wheat bread 1 slice
grapes 1/2 cup

Snack

plain yogurt 1 cup
blueberries 1/2 cup
This sample diet provides the following:

Calories

2,000

Fat

73 gm

Protein

37 g

Fiber

34 mg

Carbohydrates

284 g

Calcium

1,293 g
References
Serra-Majem L, Ortiz-Andrellucchi A, Sánchez-Villegas A. Mediterranean Diet. Encycl Food Secur Sustain. Published online March 26, 2022:292-301. doi:10.1016/B978-0-08-100596-5.22054-4
INTRODUCTION - Benefits and Harms of the Mediterranean Diet Compared to Other Diets - NCBI Bookshelf. Accessed July 1, 2022. https://www.ncbi.nlm.nih.gov/books/NBK379571/
Schwingshackl L, Morze J, Hoffmann G. Mediterranean diet and health status: Active ingredients and pharmacological mechanisms. Br J Pharmacol. 2020;177(6):1241-1257. doi:10.1111/BPH.14778
Romagnolo DF, Selmin OI. Mediterranean Diet and Prevention of Chronic Diseases. Nutr Today. 2017;52(5):208. doi:10.1097/NT.0000000000000228